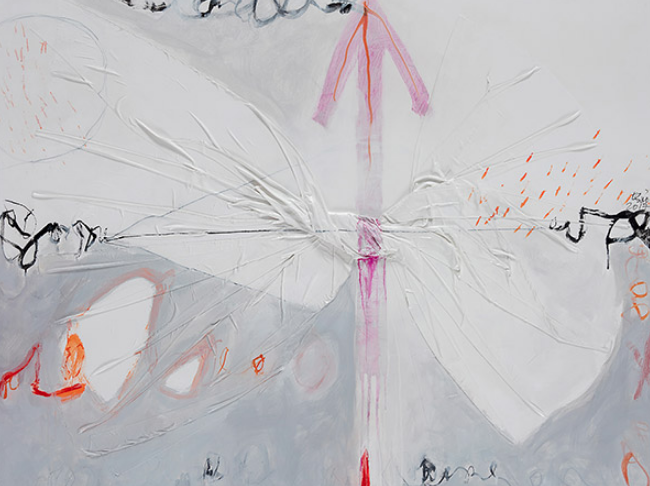 Tran Van Thao's The Line at Galerie Quynh, the leading contemporary art gallery in Vietnam and in the Region.
Tran Van Thao, still one of Vietnam's preeminent abstractionists, inaugurated the new space of Vietnam's most prominent contemporary art gallery, Galerie Quynh. Featuring a host of new paintings, The Line opened in December 2017 and was the artist's first solo exhibition in four years.
While previous bodies of work took inspiration from the artist's surrounding environments and the little joys found in everyday life, his new paintings – stylistically sparser and utilizing a more muted palette yet larger in thematic scope – are somber ponderings on life's passages and trajectories. There is an airiness about these new paintings, yet a marked tension as well conveying an equilibrium. Straight lines are the key element of the series, forming linear shapes of markers or arrows – perhaps needles of compasses. In contrast with the languid circles found in Tran's other recent works, the lines suggest an almost urgent sense of direction and movement. In a similar manner, the canvas surfaces, textured with a plethora of material physicality and recurring motifs (lined, wrinkled, treated, imprinted with sprawling congregations of paint, oil, acrylic, graphite, and even swaths of textile appearing windswept over raining skies) seem to represent the vast expanse that is a lifetime – overwhelming, serendipitous, changing from one moment to the next, unforeseeable. Through this, one traverses, through all weather systems and fantastic voyages, led by one's own compass, though not necessarily knowing where it might lead.